She-Hulk Trailer Dropped - The Loop
Play Sound
Vincent Le Mec was a French Mercenary who led a criminal organization, which managed to garner a significant reputation by 2020. Vincent and his crew were hired by the Archangel Michael to find the missing key to the Flaming Sword. He eventually murdered Dan Espinoza on Michael's orders, but his operations were destroyed by Lucifer Morningstar and Mazikeen who killed all of Vincent's men and trapped Vincent himself in a living Hell loop. He was later imprisoned for Dan's murder while his living Hell loop eventually drove Vincent insane.
After months of being incarcerated, Vincent escaped his confinement and reformed his organization. In an attempt to alleviate the psychological torment that he suffered from by the hands of Lucifer, Vincent held Aurora Morningstar hostage with the intention of luring Lucifer to his warehouse and killing him with Rory's bladed wings. Before he could kill Lucifer, Vincent is incapacitated by Rory after she managed to escape her restrains and he is later killed by Chloe Decker after he tried to attack Lucifer and was sent to Hell. After Lucifer reinstated himself as Sovereign of Hell, Vincent was one of the prisoners of Hell that is counseled by Lucifer on how to face his guilt so that he could be rehabilitated.
History
[
]
In "Is This Really How It's Going To End?!", after Dan's death, when Lucifer and Mazikeen went to take revenge on him, Lucifer whispered something in Vincent Le Mec's ear, and this information seemed to devastate the mercenary. But they left him alive and he was eventually imprisoned for life for Dan's murder.
In "Goodbye, Lucifer", Dan's ghost visits Vincent in prison, having come to the conclusion that Vincent is somehow tied to the guilt that is preventing Dan from reaching Heaven. As chaos grips the prison due to angels badly answering prayers, Vincent's cell door is accidentally left open the guards and he escapes, chased by Dan. Vincent robs and nearly kills a store clerk named Josh who recognizes him, but while desperately trying to stop Vincent, Dan inadvertently possesses his body and is unable to free himself.
Using Vincent's body, Dan visits his daughter, resulting in Dan letting go of his guilt and finally ascending to Heaven. Lucifer receives a call from Vincent shortly after midnight the next day revealing that Vincent has captured Rory and that he wants Lucifer to come get her at the location that Rory has predicted that Lucifer will vanish at.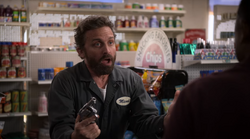 In "Partners 'Til the End", it's revealed that Vincent has been driven insane by what Lucifer did to him, which is described as bringing to Hell to Vincent who is continuously tortured by his own guilt over his actions, putting Vincent into a state of constant pain as he is consumed by the guilt that he had never felt before. Having learned of Lucifer's true nature and remembering everything that happened while he was possessed, Vincent seeks to take revenge upon the Devil and to kill him by kidnapping Rory and weaponizing her feathers. After Lucifer talks Rory down from killing Vincent and becoming the monster that he once was, Vincent is shot by Chloe Decker as he tries to stab Lucifer from behind and becomes impaled upon two of Rory's weaponized feathers. With his last words, Vincent reveals to an amazed and pleased Lucifer that Dan had made it to Heaven while Vincent himself only sees darkness instead of the light, meaning that he is going to Hell.
Decades later, having regained his sanity, Vincent is one of the souls of Hell that Lucifer attempts to redeem with Vincent taking part in one of Lucifer's therapy sessions along with Reese Getty. Vincent offers to shoot Reese in the face if he can't change and put the man out of his misery, but Lucifer tells Vincent off for his threat and notes that he clearly needs a little more time to which Vincent just shrugs in agreement. Their session is then interrupted by a knock on the door which Lucifer believes is a delivery of donuts and pastries for Vincent. However, it instead turns out to be the arrival of the recently-deceased Chloe who has come to help Lucifer in his eternal mission.
Appearances
[
]
Trivia
[
]
On Supernatural, Rob Benedict played God.
He also played a character named Gibson Kafka in a previous DC show called Birds of Prey, which is in the same multiverse as Lucifer.
While possessed by Dan Espinoza, Vincent's French accent disappears and is replaced by Rob Benedict's real American accent.
"Le mec" translates to "the guy" in French.
Links
[
]