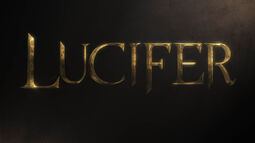 Lucifer is a television series that was on the FOX network but was taken over by Netflix after Lucifer's cancellation on FOX. It is based on a comic book series The Sandman, published by the DC Comics imprint Vertigo. The series was picked up on May 9th, 2015, and it is scheduled to air on TV in 2016.[1]
The character Lucifer Morningstar was originally created by writer Neil Gaiman as part of his series The Sandman in 1989. Mike Carey wrote a spin-off series titled The Sandman Presents: Lucifer in 1999, then wrote a Lucifer solo series for 75 issues that ended in 2006.
The TV series has a premise similar to the comic. They both depict a Lucifer who has willingly abdicated his throne in Hell and taken ownership of a nightclub called Lux in Los Angeles. The comic deals with the theological questions Lucifer raises when he challenges the Judeo-Christian god, specifically those of free will and predestination. The TV series follows Lucifer, who decides to help the LAPD Detective Chloe Decker solve homicides for his own amusement.
Season 1 premiered on January 25, 2016, and finished airing on April 25, 2016. FOX renewed the series on April 7, 2016, for a second season. Season 2 premiered on Monday, September 19, 2016.[2] On February 13, 2017, FOX announced that Lucifer will return for a third season.[3][4]
On May 11, 2018, FOX cancelled the series,[5] but on June 15, 2018, Netflix picked up the series for a fourth season.[6] On June 7, 2019, Netflix renewed the series for a fifth season, which would be the last season for Lucifer.[7] However, on June 12, 2020, the cast signed on for a sixth season, which was officially announced on June 23, 2020.[8]
While the Lucifer TV series is not impacted by The CW's Arrowverse, Lucifer Morningstar did make a brief appearance during the third part of the Crisis on Infinite Earths crossover event, with the series' universe being designated as Earth-666.
On May 11, 2018, following the series' cancellation, executive producer Joe Henderson indicated that the third season finale was not intended to be a series finale and that it would feature a "huge cliffhanger" that was meant to deter Fox from canceling the series. Fans rallied on Twitter and #SaveLucifer soon became the #1 trending topic worldwide with the hashtag being used approximately 1 million times that day. The day after the #SaveLucifer campaign began, a second hashtag, #PickUpLucifer, also spent time as the number one worldwide trending tag, and returned to the top five during the finale, according to showrunner Ildy Modrovich That tag reached 1 million later that day. An online petition also began circulating aimed at renewing Lucifer for season 4 on a new network. The series is reportedly being shopped around to premium cable and streaming services.
On June 15, 2018, it was announced that Netflix picked up the series for a fourth season. One episode of the fourth season is titled "Save Lucifer" in honor of the campaign.
TV series:
Comics:
Community content is available under
CC-BY-SA
unless otherwise noted.