Jurassic World: Dominion Dominates Fandom Wikis - The Loop
Play Sound
Frank Lawrence, also known as Father Frank, was a priest who had a parish in a church in Los Angels, United States. During his final moments, he became one of the few humans to realize Lucifer's true identity.
History
[
]
Before becoming a priest, Frank was a touring musician. He played the piano, traveling across the country, he opened for such acts as Bowie and the Rolling Stones, he thought the fun would never end. Ten years prior to the episode, however, he, his daughter, Conner and his parents were involved in a car accident; his daughter and Conner's parents were killed. It was after this tragedy that he discovered his faith and became a priest, which, according to him, gave him peace. When he again crossed paths with Connor - the child without a parent - Frank took the responsibility of taking care of him - the parent without a child. Connor thought him overprotective.
In order to save Connor from drug dealing, he asked for help from Lucifer, who refused at first with a "big fat no." Lucifer wanted to prove that the priest was a hypocrite, and later wanted to blame him for the death of the Youth Center's director, Mr. Arietta. After Chloe spoke to him at his church, she asked him to come in and make a statement, as they left the church, he was the apparent target of a drive by shooting on the church steps; Lucifer then asked "You wonder why I don't go to church."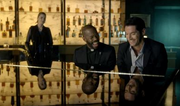 After actually getting to know him, Lucifer grew to sympathize Frank, but would not admit it. When Frank claimed to be a better piano player than Lucifer, the two retired to the penthouse to play. He truly enjoyed playing piano with the former musician, and Chloe who witnessed the interlude, called it "absurdly adorable."
When Connor's guilt seemed obvious, Lucifer asked how Frank could still have faith in the boy. Frank told Lucifer he believed that no one is beyond salvation, not even Lucifer, that God had a plan. When Lucifer told Frank that God's plan for his was obvious, he asked him how he knew God's plan for him was over; Lucifer couldn't answer.
After later receiving a call from Connor, Frank left the penthouse, thinking that Connor was in danger, when the boy was actually trying to entrap the priest. Soon after, Lucifer and Chloe follow him to the church. When Connor proves unable to kill Frank, Doyle, the Spider and the man behind the drug dealing, attempts to kill Connor, but is stopped by Frank, who throws himself in front of Connor, and takes the bullet meant for the boy. He collapses, galvanizing Lucifer, who rushes to Frank's side. Lucifer tries to prevent Frank from dying, using his jacket as a pressure bandage, and telling him he can't go anywhere, he has more people to annoy.
Frank tells Lucifer that he wondered why God had put Lucifer in his path, but then realized that he had been put in Lucifer's path. He tells Lucifer, "your father has a plan". Lucifer then realized that Frank understood his true identity, but Frank then dies despite Lucifer's efforts. Furious at the waste of Frank's life, Lucifer violently rushes towards Doyle and slams him against a wall by the neck, threatening to "pull the legs off the Spider". Chloe talks him down, telling Lucifer that "Father Frank wouldn't want this".
Back at the penthouse, saddened and angered by Frank's death, Lucifer rages against God, stating that whether one is benevolent or malevolent, there's no winning.
*Frank is apparently one of the few humans to have believed Lucifer about his true identity. He is the second human to emotionally affect Lucifer, the first being Chloe. Frank might have helped push Lucifer towards the path of redemption. It is unknown if Frank understood who Lucifer was the whole time, or simply found clarity before dying.
Family
[
]
Frank Lawrence†
Unknown
Unnamed daughter†
Notes:
 
Solid lines denote parent-child blood relationships and brother-brother relationships
 
Dashed lines denote marriage relationships that result in offspring
 
† denotes the deceased
Appearances
[
]
Trivia
[
]
Frank befriended Lucifer over their shared love of music.
According to Lucifer, Frank's deadly sin is Wrath.
In the final season, Lucifer's "To Do" list involved checking on Frank; showing Lucifer didn't forget him during the millennia he spent in hell.
Lucifer called him "padre" a few times, which is Italian for father.

Lucifer called him "Padre Pederast" which is likely a reference to the Catholic Church sexual abuse cases.
Lucifer referred to him as "Padre Punchy" to Chloe after Frank admitted to punching Arietta.
Links
[
]