Doctor Strange in The Multiverse o Madness - The Loop
Play Sound
Earl Johnson, also known as God Johnson, is a wealthy oil magnate. After he started calling himself God and gave his money away, his wife had him committed to a psychiatric hospital.
History
[
]
Johnson was from Odessa, Texas, and made his wealth in oil. While in New Mexico for work, he "saw a cool belt buckle, so I picked it up," in a Navajo gift shop. The belt buckle's celestial origins caused it to instill in him memories and abilities belonging to God. He then gave away his money and changed his name from Earl to God. On February 3, 2017, his wife committed him to Westridge Canyon Psychiatric Hospital.
When an Westridge orderly, Toby Mulligan, is murdered at the hospital, Johnson discovered the body. Lucifer, who declares that he loves the mentally ill, and is entertained by those who think they are someone else, is intrigued that Johnson thinks he is God. He goes out of his way to speak to Johnson, "It's what I can do for you that's exciting. See, I can reveal the truth about the Supreme Being you've chosen to impersonate. I bet you wanted to be God because He's benevolent, all-powerful, yada yada. But in actual fact, He's a dick." Johnson then proves immune to Lucifer's mojo, a fact Lucifer attributes to "really amazing drugs." But when he declares he is finished with the "fraud," Johnson says, "It was real good seeing you, Samael." Lucifer then begins to wonder if Johnson really is his Father.
Lucifer then has himself committed for a 72 hour hold in order to investigate both the case and Johnson, "there may also be some personal issues I'd like to explore with Mr. Johnson." He then witnesses Johnson actually heal a woman, and is nearly convinced Johnson may be his father - enough to punch him in the face and call him a son of a bitch.
When Lucifer later confronts Johnson and demands an apology, Johnson replies, "Apologize? You punched me. Tell you what I can do: I can forgive you." When Lucifer then calls him Dad, he says, "So you believe me? Good. Tell me, just what is it you think I've done?" Lucifer lists his offenses and then brings up mum, surprising Johnson who apparently didn't know she was on Earth, nor was Lucifer the Samael he remembered.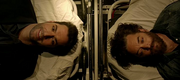 Lucifer and Johnson then escape the hospital with Linda's collusion, and Lucifer sets him up with Charlotte. They dance together at Lux before the police arrive and return the pair to the hospital. Back in Lucifer's hospital room, the drugs are kicking in, a person in the Santa hat and beard approaches from behind. Lucifer sees Santa but Santa easily knocks him out since Chloe is still near by. Lucifer wakens on a gurney being wheeled down the hall, and he tells the person in the Santa mask pushing him he is the Devil. Santa replies Lucifer is just a man with delusions. He is placed next to Johnson who asks Nurse Kipsey (Laura Coover) why she wants to know. She takes off her disguise and says she has to kill them both since they know her identity. She then explains she hated her mother, and Lucifer tells her she is preaching to the choir. He says evil parents need to be destroyed. God is a bit stunned that Lucifer wants to destroy him, unaware that he had been so angry, "I had no idea you were so angry with me.... But to want to destroy me? That's pretty serious. You mind telling me why?" Lucifer tells him, "Because... Because I'm your son. And you rejected me." Johnson then says that if that is the case, he could not blame Lucifer, and he goes on to say he could not remember why he would be so angry with him. Nurse Kipsey heads off to get a ladder to stage their deaths, and Johnson tells Lucifer, "For what it's worth, I am sorry. I truly am. And I am proud of you, Samael. I am proud of the man you've become."
When Nurse Kipsey then removes Johnson's belt and the buckle falls to the floor, he collapses and then revives with no memory of the last few months, wondering why he is strapped to a gurney. When he later heads back home, Lucifer appears to send him on his way, and ask him what it was he did remember - the answer was nothing, not since he picked up the belt buckle months previously. He then apologized to Lucifer for anything he might have said that caused them to argue, but Lucifer said he had been lovely, that he briefly thought Johnson was his father, "you said some things that I think I wish he'd always said to me, so for that I thank you."
Powers and Abilities
[
]
Divine Empowerment: During the time he wore the Medallion of Life on his belt, he gained a set of miraculous divinely supernatural abilities.

Healing: While empowered by the Medallion of Life, he is capable of channeling divine power to heal the wounds of mortals.
Resurrection: While empowered by the Medallion of Life, he is capable of channeling divine power to resurrect the dead.
Divine Wisdom: While empowered by the Medallion of Life, he gained divine and arcane knowledge. He was able to recognize Lucifer and calls him "Samael", something which surprised and shocked Lucifer.
God's Memories: While empowered by the Medallion of Life, he possessed memories of God, though apparently only prior to the Heavenly rebellion and banishment of Lucifer and the goddesss.
Supernatural Immunity: While empowered by the Medallion of Life, he was impervious to supernatural powers such as Lucifer's persuasion and desire mojo. He took a punch to the face from Lucifer without any visible injury or lingering effects. He was also immune to human drugs.
Appearances
[
]
Trivia
[
]
Johnson was at Westridge Canyon Psychiatric Hospital for three months. He was admitted February 3, 2017 and released May 10, 2017.
His condition was described as "delusional" and he was given thorazine and diazepam. While thorazine is an anti-psychotic, diazepam is used primarily to treat anxiety, muscle spasms, and seizures.
Timothy Omundson played Cain in the series Supernatural. The character of Cain later appeared on Lucifer in the form of Marcus Pierce.
Gallery
[
]
Links
[
]
References
[
]