Wiki Targeted (Entertainment)
Play Sound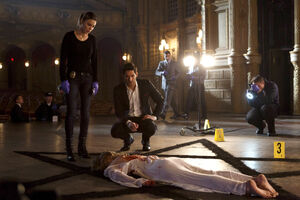 From the episode #TeamLucifer, The Church ,of the Dark Prince was a cult that worshipped Lucifer exclusively. They were shown performing fake rituals of death and were seen by Lucifer and Chloe during a memorial to Rose, the victim of that episode who had been killed during one of their rituals.
The Church
[
]
They have a book called "The Church of the Dark Prince" about their philosophies. According to Lucifer there is a whole chapter dedicated to sex. A line in the book a stated "Satan represented a beacon of honesty in a sea of mass deceit."
Had implants that spelled Filii Hircus. Filii Hircus means children of the goat, something Lucifer did not take kindly to being called.
They believe Amenadiel's concept that Lucifer has something to do with goats.
Members
[
]
Onyx as known as Mitch Watson was high priest of the church of the dark prince. Though he holds this position he believes "the whole thing's a joke."
Rose Davis was a girl who joined the cult through her boyfriend, Corazon. During what appeared to be a mysterious ceremony she was killed by who was later discovered to be Malcolm Graham. Rose was the main victim of the episode #team lucifer.
Corazon was the boyfriend of Rose who was killed. He had convinced her to join the cult and was the reason she was there.