Wiki Targeted (Entertainment)
Play Sound
Charles "Charlie" Martin was born to the human Linda Martin and the angel Amenadiel. He was named after their late friend Charlotte Richards.
Biography
[
]
Charlie was conceived largely by accident due to Amenadiel not knowing it was possible for an angel to impregnate a human woman. Linda suffered from fainting after she and Amenadiel broke up, with Maze forcing her to go see a doctor. Learning that she was pregnant, Linda had complete support from Amenadiel and Maze despite their lack of knowledge about babies or angel babies, for that matter.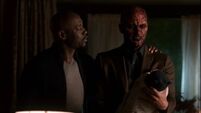 Shortly after Charlie's birth, he was kidnapped by Dromos and the demons who were hoping to make him the new King of Hell. However, he was rescued and returned to his parents.
Charlie would later get sick, so Amenadiel and Linda took him to the hospital, but the doctor assured them that it was a normal cold. However, it was revealed by Michael that since Charlie was able to get a cold that meant he was mortal.
When Amenadiel brought Charlie to the police station to talk with Lucifer about this revelation, he accidently froze time to prove if what Michael said was true, which it was when Charlie was frozen with all the other mortals. It was also revealed that Michael was the one got Charlie sick in the first place to have this revealed.
When God arrived on Earth, he held his grandson and took the time to dote on him. Amenadiel later tells his father of his concerns about Charlie being a mortal, God confirmed that this was the case. Wanting to spare his son a fate of mortal life, Amenadiel offered to become mortal himself while Charlie becomes an angel but God refused.
Linda later took Charlie on stroll through the park, but soon broke out into a song with Amenadiel and the other parents.
When God decided to become Human for a day, he entrusted his powers to Charlie by placing them in his toy. After the day was over he returned his powers to himself.
On Charlie's second birthday, he manifested a pair of angel wings, much to his parents shock and joy.
Family
[
]
Notes:
Other angels are seen at God's retirement party including Zadkiel angel of righteousness and Hanjobadiel the most handsome. Jophiel and Saraqael visited Lux in S5E15. Raziel initially sided with Michael. Lezmegadiel is mentioned to be in S6E9.
Solid lines denote blood relationships
Dashed lines denote romantic relationships
† denote deceased individuals
Notes:
Solid lines denote parent-child blood relationships
Dashed lines denote romantic relationships
† denote deceased individuals
Appearances
[
]
Trivia
[
]
Some of the other suggested names for Charlie were Zoriel, Zori, Ezekiel, Zek, Jack, Jackiel, Azmortiel, and Michael.

Jack is the name of the Nephilim Jack Kline, who is the son of the archangel Lucifer in the TV series Supernatural.
Michael is presumably a reference to archangel Michael, which would explain why Amenadiel promptly disregards the name as a possible choice.

Nephilim are mentioned in Genesis 6:4.
Despite Charlie being half-Angel, he is still apparently (see above) a mortal as when Amenadiel stopped time, only the mortals were affected but not the celestials (Lucifer, Amenadial, Maze and Michael). He has, however, enough celestial essence to activate the detection powers of Remiel (since she felt him even before he was born).

He gains angel powers over time due to being half-celestial.

Charlie is fascinated by his uncle Lucifer's devil face, which is one of the few ways to calm him down.
Rory confirms they have a rivalry.
The name Charlie is primarily a gender-neutral name of English origin that means "Free Man".
His angel wings are grey like his father's wings.
Since his father became the second God, fans have jokingly compared Charlie to Jesus.
Links
[
]