We're Getting Mutants in the MCU - The Loop
Play Sound
"
"I... I want to figure out how to disable the cameras in Evidence so I can nap in there."
"
— Cacuzza
in "¡Diablo!"
Cacuzza is a uniformed officer with the Los Angeles Police Department. She is one on the many uniforms who assist Chloe Decker and Lucifer Morningstar on some of their cases.
History
[
]
After Chloe and Lucifer Morningstar had stopped working together, and he decided he had to get closure with Chloe Decker by working one last case, in "Expire Erect," he gathers the officers at the precinct together to say his goodbyes. He thanks Cacuzza particularly for always letting him inspect the cocaine seizures first. He then reveals he has brought in a burger truck to deliver free burgers for them all. Cacuzza is among those who went to grab some.[1]
In "Save Lucifer", Chloe orders a prisoner transfer and it is Cacuzza who serves as escort for William Kinley to the precinct for questioning. On route, however, they were ambushed by Mazikeen, who took Kinley. Cacuzza phones Chloe with the news. [2]
After Lucifer returns from Hell several months later, he uses his mojo on Cacuzza to prove to Chloe he isn't Michael. He tells her it is good to see her, and asked what her desire is. The desire revealed is that Cacuzza wants to find a way to disable the cameras in evidence so she can nap in there. He says she is 'naughty' and then sends Cacuzza on her way having proved himself to Chloe.[3]
In "Our Mojo," during their investigation of a serial killer, it is Cacuzza who gives Lucifer a file detailing the leads from the flower shops they were investigating for Chloe.[4]
In "Spoiler Alert," after a mysterious "earthquake" shattered glass at the precinct, it is Cacuzza who checks the Evidence Room and asks Chloe, who had been in there with Lucifer, if she was okay, then suggests there had been an earthquake. Chloe asks Cacuzza if she has seen Lucifer, but she says she has not.[5]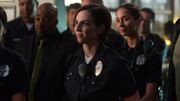 When Dan Espinoza is kidnapped by Vincent Le Mec in "Is This Really How It's Going to End?!" It is Cacuzza who is teamed up with Chloe on the search for him, as Lucifer and Amenadiel were searching farther afield. Chloe finds Dan alive but bleeding out. She tells Cacuzza to get help, and medics soon arrive to treat him and take him to the hospital.[6]
When Chloe and Ella were unsuccessfully trying to convince Officer Mason to let them look at personnel files, Cacuzza interrupts to let Mason know the artisan doughnuts were back. Mason left, allowing Chloe to break open the lock with the power that Amenadiel's necklace gave her.[7]
Cacuzza appears in Linda's book about Lucifer, where she is inexplicably depicted having a sexual relationship with Maze.[8]
Personality
[
]
Cacuzza seems to be one of the most laid-back of the officers, more than happy to grab a snack or a nap during her downtime. Nonetheless, she is shown to be serious when on the job and in life-or-death situations.
Appearances
[
]
Links
[
]
References
[
]